Guided reading groups are up and going!  Students are using strategies and making so much progress which makes me so happy.  And it makes parents happy too!  
Seesaw Plus for Sharing Student Portfolios with Parents
Parents want to see what is happening with their child's learning and Seesaw is the easiest way I have found to make that happen!
Using Canva app to write spider reports
Students make huge amounts of progress through out a school year and Seesaw  Plus is a great way to digitally document this progress.  
You can share pictures or videos, drawings, notes or links with parents.  In the picture above, I was letting parents see how we were using technology right along with reading.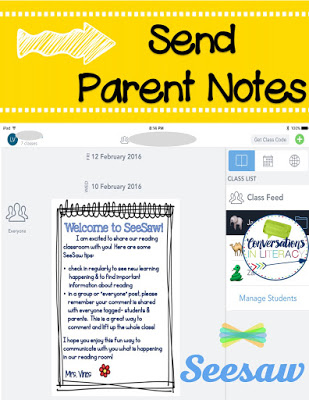 Send a welcome letter to introduce parents to using Seesaw
I've had teachers ask for this welcome letter for Seesaw so if you click the picture or click here you can get this letter for your classroom!
I like to share celebrations too!  This was a a fun way to personalize Mother's Day.  Moms have the picture right there in the app and can show other people when she opens the Seesaw app.  This was also quick to do and didn't take up lots of our learning time!
There are so many ways to share student learning and involve parents with what is going on in your classroom!  I want to make it a goal this year to not only showcase what we are doing, but to have the students demonstrate the strategies they are learning in videos to their parents.  This will be a great way for parents to see how students break words into chunks to attack those tricky words.  Well meaning adults sometimes rely on "sound it out" as a strategy.  So I thought videoing the students chunking words in text would help parents carry that strategy over to their reading time at home.  
Draw a sight word card, build it with letters, make it with Play Doh!
If you haven't heard about Seesaw Plus or used it yet, let me explain a bit.  It is kind of like a Facebook set up for students and parents.  You send home a QR code for the parent (and grandparents too if the parent chooses to share it).  Then the parents can see all that you tag them in.  The parents get notifications on their phone that new content has been added.  They can comment on the content or like it.  The teacher gets notified for who has seen the content and can comment back to the parents comments.  SO MUCH FUN!
I have had parents (and grandparents) tell me how much they LOVE using this.  One grandparent, who also happens to be a teacher, told me how excited she would get when she got the notifications that new pictures/videos had been put up of her grandson.  She sometimes presents about technology to other teachers and she is always singing Seesaw's praise to other teachers!
The teacher can create folders to organize the material for each student.  You could create folders for each subject.  Parent teacher conferences are coming up.  This would be a great way to share what students are learning.  
Students can take pictures or videos and share their learning too which will save you some time of doing it.  
This year I am using Seesaw Plus.  It is everything the free Seesaw is plus so much more for the teacher!  
View Student Progress Towards Key Skills: Teachers using Seesaw for formative assessments can now tag student posts with their own set of skills or standards. Optionally, assign a simple 1-4 rating to student work and get a real-time understanding of how students are progressing towards key curriculum objectives.
Private Folder: Teachers can add student work to a private folder to keep assessments in one spot, without sharing everything with parents.
Private Notes: Teachers can take private notes (and even collaborate with other teachers and administrators) on student work.  Private notes are only visible to other teachers, not students or parents.
Using Seesaw Plus for Formative Assessments
Using Seesaw Plus for formative assessments will really make checking in on student skills so much easier.  The information that you keep on the formative assessments will be private just for you.  It is not shared with parents or students on the app.  But you could easily sort by student name and show parents just their student's information during parent/teacher conferences.  Wouldn't that be easy?  Everything right there and ready to show parents without making copies!
You can find Seesaw and Seesaw Plus in the app store!