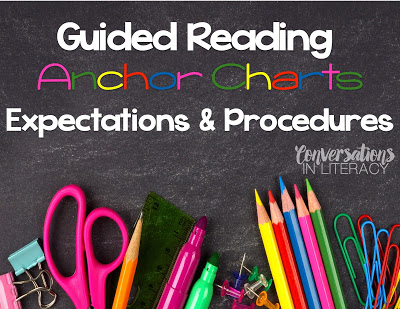 Anchor charts help make the learning process visual for students.  There are all kinds of charts you can use and even more ways to create them.  Using anchor charts to teach students your expectations and procedures for guided reading is worth taking the time to do.  
Use Photographs
One of the first anchor charts I create is how to sit on a Hokki Stool.  If you are using alternative seating, this is a big one to be sure and cover with students!  I  really like our Hokki Stools, but they can be a problem for students if they don't use them correctly.  I really don't want students landing in the floor and getting hurt!
Use Clip Art
I like to plan ahead what I want my anchor charts to say.  That way I have clip art ready to use on them.  For me, it is easier to use some clip art than always draw if it is going to be an anchor chart that will stay up all year.  If it is a quick chart and we won't need it long, I can just draw for that.
Create the Chart with Students
For anchor charts to be effective, they MUST be created with the students.  If they are not, the students don't have as much or any ownership in them and will not refer to them and use the charts.  This is a bit tricky when you are creating a chart several times a day to different groups of students like I do.  So sometimes I create with one group, then fold the chart up and only reveal bits and pieces as we go with each group.  Otherwise, I would be creating the same chart over and over, but only need one to display.  
My book check out is needed with 4 different groups of students right now, more later.  I created it with one group and then covered and revealed with the other groups.  
Use a Dry Erase Easel 
Another way I create charts that more than one group will need is to use the dry erase board.  I create the chart with each group on the board, then later transfer the information to chart paper to go onto the wall.
Use Colors 
Using different colors to make each section easier to read is helpful for students to use the chart.  Also showing examples of what to do and what not to do makes it easier for students.  
Keep It Simple
For my students and I think for most students, keeping anchor charts simple and easy is important.  The more you stick on the chart, the more it can become clutter to the students and then not as usable or useful for them.