Do you keep a basket of all your "teacher" things for your small groups in guided reading? We all have a variety of items in our basket that help our reading groups run a little smoother. We just don't have time to be looking for this or that when we should be teaching.
Here you see my Anecdotal Records Notebook. I will explain how to use that in a minute. Also, you can see rings of sight word cards and letter cards. Those help me with my records in the notebook. Then there are a couple of mentor texts.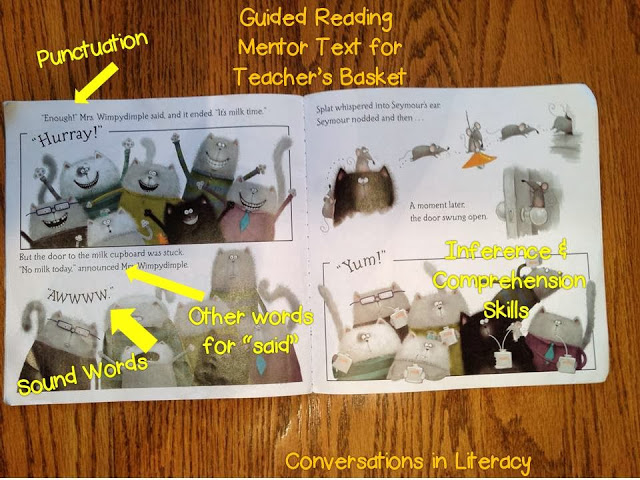 When you choose mentor texts for your basket, you have many things you can consider for what you might choose. I want students to apply what they are reading and noticing the author doing in books over into their writing. So some things to think about would be not just choosing books that have the comprehension skills and sight words that your students have learned, but also other examples the students can transfer when they write. My students for some unknown reason will forget and forget to use ending punctuation. Demonstrating to them how the author uses different punctuation and when can be of help rather than just telling them to remember to use periods and question marks.
I like to do quick check-ins with the students in between assessing them. Keeping rings of letters and sight words helps me do this quickly. I can just pull out the ring I need and mark off in my anecdotal notebook what each student has learned.
When I take running records, there is a lot of information that I like to keep from them. The information helps me to know each student's needs and to plan better to help them progress. So I keep notes on each student for this.
Behaviors of each reading stage is another good thing to keep track of to help you plan lessons to better reach your students. Each time you observe a student using the different reading stage behaviors, make a tally mark for it. After 5 or 6 tally marks, you may decide the student has that skill and can plan for others. Keeping track of phonemic awareness and phonics skills mastered in the same way is an easy way to keep it all managed and organized in a way that makes it usable.
I have a variety of other items in my basket. Doesn't every teacher have lots of Post It notes? I like all kinds of sizes of them. You can see the larger one and regular size. The small ones aren't showing. Also, keeping pointers is a good idea for some students.
Here is how you can use the word card frame to frame a word for the student.
That's it! Lots of items in my basket…but some I didn't really even talk about.
There is just so much to guided reading and lots of information on each student to keep track of. Do you keep an anecdotal notebook? I have kept different kinds and have finally come up with one that works for everything I need. You can click on any of the pictures or click here to see this notebook.
I would love to hear about your anecdotal records or what is in your guided reading teacher basket!