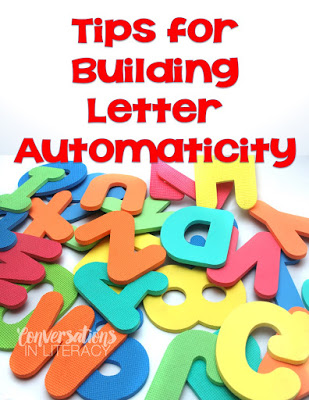 Over break I have had a couple of my students on my mind and their lack of letter recognition.  They have learned some letters and sounds, but not all of them yet.  I have Richard Allington's guide in my head telling me that students should know their letters by October.  And I do not believe his guideline to be unreasonable.  But we all have one or two students that just don't learn at the rate the others do.  And these two kiddos have got to get going.  
Here are some ideas to build and strengthen letter recognition and sound identification too.
  Letter Strips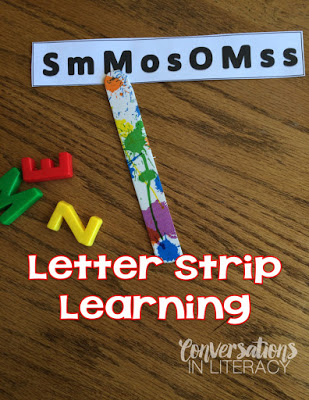 Plain and simple and easy to do.  Type out letters the student knows and have them practice pointing to them and saying the name.  The key here to building automaticity is starting with letters the student already knows.  Have them practice ready across quickly saying the letter names.  Then, I have them do it again and read the sounds each letter makes.  This is a quick way to get in some practice.  Only takes a couple of minutes to have them read it.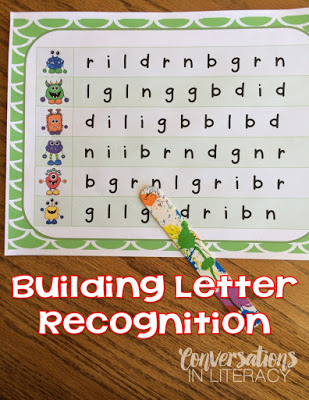 You can also make a game of it.  Students can roll a monster cube and read the line for that monster.  Again, strengthening their letter fluency to be more quick and automatic.  You can click here for this game.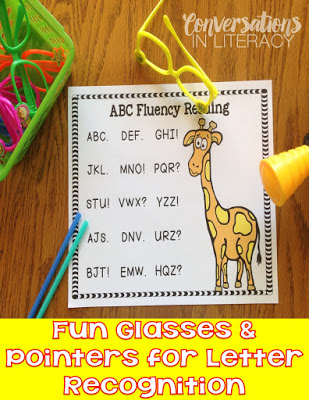 Letter Sorts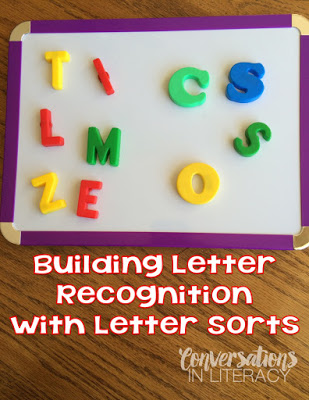 Letter Sorting is a wonderful way to get students to notice the features of the letters and how they are made.  The one above is sorting by straight line vs curves.  It forces the eye to take notice of how the letters are formed and how they look.
This letter sort is obviously by letter.  And again, to build letter fluency, students need to be able to do this quickly.
Other letter sorts besides by letter and by straight vs curves are:
sort letters by color
capitals vs lower case
capitals with matching lower case
consonants vs vowels
tails vs no tails
holes vs no holes
letters in my name and not in my name
short vs tall letters
Pull and Say
I call this one Pull and Say because I have the students pull down the S and say the name of the letter as they pull it to the bottom.  Then as they push it back up, they must make the letter sound.  You can do this with magnetic letters on your table or whiteboard or use the Magnetic ABC app.  It has lower case letters too. I just had the capitals pulled up at the time.  I can get the letters ready on this iPad app quickly before classes start so I tend to use the app for this activity.
ABC Letter Order & Letter/Picture Linking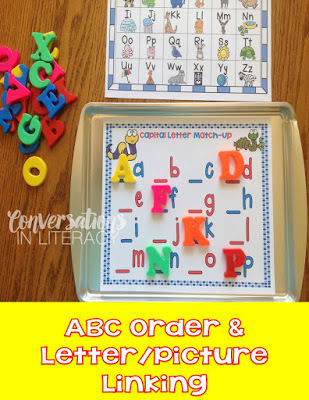 Build letter fluency by teaching ABC order and linking the letters to pictures.  Reading an ABC chart every day is important.  Put the chart in a plastic sleeve.  Have students find the M and write right on the sleeve the capital and lower case M.  Find the letter that comes before the Tt or that comes after the Kk.  Read the chart backwards or only the vowels.  Just have them read it over and over in different ways.  
FREE Resource:
(Click here to receive newsletters and this resource)