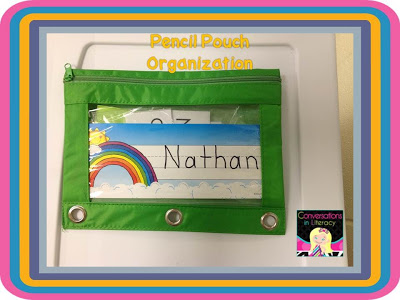 It's that time of year…time to be thinking of our classrooms, lesson plans, and how to get it all organized. Be sure to read to the end today. I have a giveaway for you and your classroom!


One little product- the pencil pouch- can be a great little organizational tool for small group time. I have always looked for ways to have my materials for reading prepared and ready to go. I don't want to waste time gathering things from different buckets and boxes. This is where the pouches come in! Students can just grab their bag and start!



My kinders come to me still needing practice learning to write their names. So inside goes a name plate. The name plate shows through the little window in the pouch which saves the step of having to label the pouch and no labels means no trying to peel those sticky things off! I also stick in a dry erase marker for practicing writing their names.
I also stick in a baggie of letters for them to practice putting the letters in the correct order. Sometimes I put in magnetic letters instead.
As soon as possible I turn the name plates over for them to build their names without a model. Then they can turn them over to self check.
Other needed items that you can stick in are a set of sound boxes and a baggie of objects to move into those sound boxes.
I also like to stick in a small pointer. I don't know what it is about having their own little pointer to use, but it sure is motivational to them to point each letter with a pointer!
Now, I have a great gift for one of you! I am giving away a $50 MPM School Supply Gift card to help you get your classroom ready for the new school year!! Wouldn't that be a great help, because we all know that teachers spend an awful lot of our own money on our students and rooms. Thank you MPM School Supply!! I am also giving the winner $10 towards my TpT store. You can click here to see my store.
Enjoy your Sunday and remember to enter the giveaway! Don't forget to like MPM's Facebook page before entering the giveaway as a thank you for offering this great gift card!