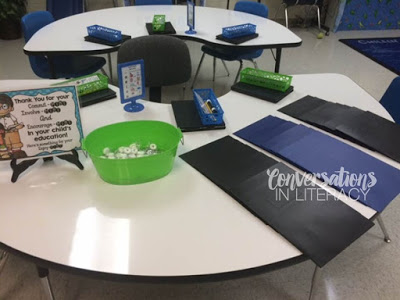 We had our Meet the Teacher night this past week.  Or from the teacher's perspective, Meet the Parents night.  I enjoy this night so much!  I love seeing all the kids come back from summer vacation looking taller, dressed in new school clothes and excited to be back!  Most are smiling and talking as they lead their parents down the halls to their new classrooms.  
I set had it set up this year so that parents were notified in their child's classroom that they qualified for Title 1 Reading and to stop by to see me and pick up their child's reading folder.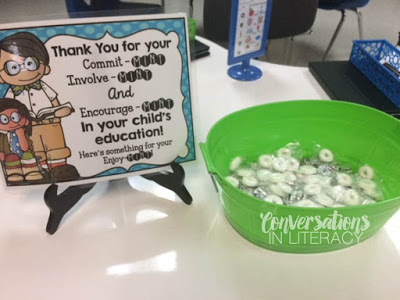 Besides the reading folder, parents and students were treated to mints for their Commit-Mint in their child's education.  This cute poster comes from Nicole Bunt's store and is a freebie!!  You can pick it up by clicking here.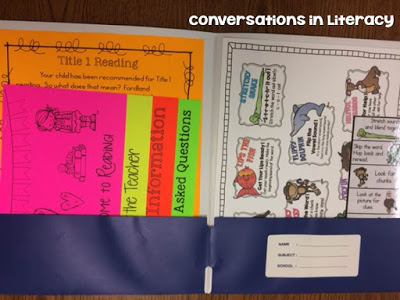 In the reading folders, parents could find all the information they would need about Title 1 Reading and how to help their child at home with reading.   The orange sheet explained Title 1 and how it helps students with an extra boost in their reading skills.  Parents get concerned sometimes when they are notified that their child will be in Title 1.  The most frequent concerns are does this mean the child is now in special education, do we think something is wrong with their child and what will the child miss in the regular classroom if they attend Title 1 classes.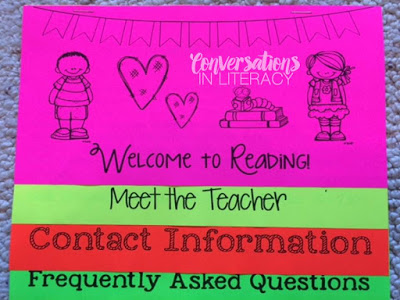 The flip chart is just more information for the parents.  I find if I use colored paper, make it in different formats my notes are more likely to be read.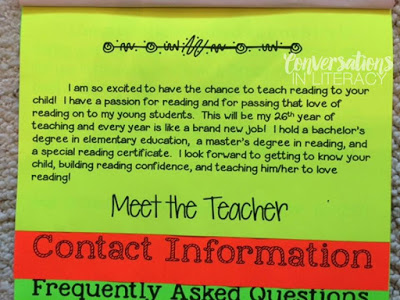 This is inside one of the flaps.  Under the frequently asked questions flap, I address ways parents can help their child read at home.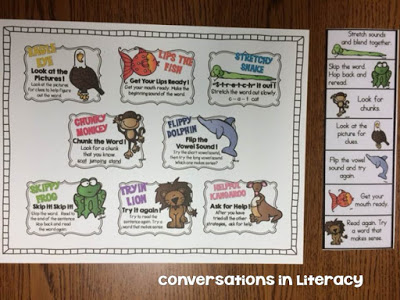 On the other side of the folder is the reading strategies that we will be using printed on card stock so parents can have a handy chart at home.   I want parents to be using the same strategies at home that we are using at school so we can all be consistent when helping them read.  The bookmark is for the student to use in their books at home so they too have a visual reminder of how to help themselves.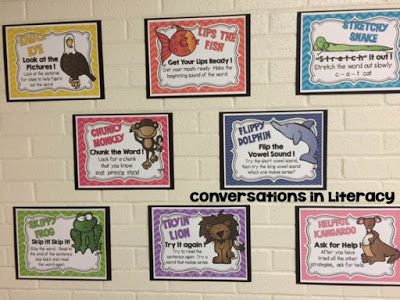 The pictures from the chart for home match these posters that I placed on black construction paper and then hung on the wall.  
This is a close up of one of those posters.  Super cute work is also from Nicole Bunt.  Click here to be taken to see it!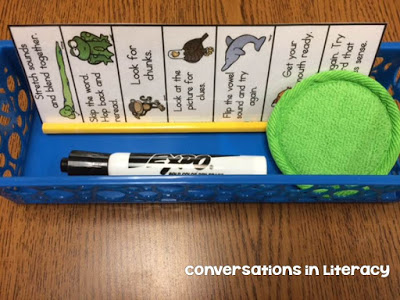 I also placed a copy of the visual bookmarks in each of our small group baskets.  Students will have these visual cues everywhere to help them be better readers!
Next week, I will post my classroom reveal!