Until a couple of weeks ago, I had never been to IKEA. We don't have one in my area. Maybe that's a good thing! Eight of us teacher friends decided to take an overnight trip together and one of the stops on this trip was to IKEA. Out of all of us, only one teacher had ever been inside!
This trip was so much fun! I definitely could have spent a lot longer here looking at all the fun ideas for your home and your classroom. SO MANY IDEAS! While I walked along being amazed, I snapped a bunch of pictures so those of you who also have never been could see what fun things there are inside!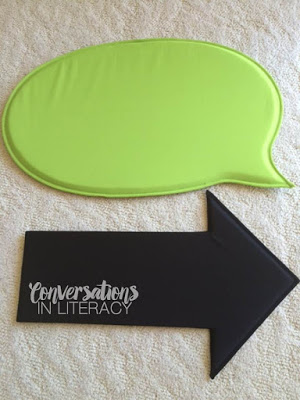 This speech bubble and arrow came as a set. I was thrilled by the speech bubble because it is one of the colors in my room. I wasn't sure how I would use it, but knew I needed it. It is in my fluency center now. When I do my classroom reveal, I will show what I did with it. It wasn't until after I got home that I noticed this speech bubble kind of matched the speech bubble in my blog header!!! Love that!
I really liked these buttons! Big plate sized plastic buttons to decorate your wall.
All kinds of frames in all kinds of sizes! I know a lot of us could use these for all the posters/charts we hang and for the art work the students give us.
I loved these fun hooks! The kids would think these were pretty funny to see hanging around in our rooms.
I really enjoy having different seating options for the kids. This one looked nice and comfy! I think without even trying, I am just attracted to things that match the colors in my room!
These number cube baskets were really fun!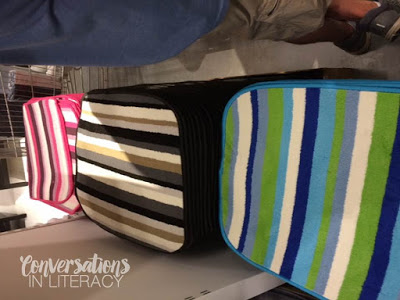 I think we have all seen these rug pieces. Great way for students to be able to define their space and have their space be mobile.
How fun are these matchstick tally mark pillows?? If you are teaching math, you need this for sure!
I have these type of decorations hanging in my room. But not the size or shape of these! Some of them were huge!!
I got the idea of these little frames on stands from my friend, Tammy at Forever in First. My students need vowel picture/sounds reminders and Bb Dd charts to remind them which way the letters go. These are going to be very helpful this year!
These crates on wheels could be so handy for files, book bags, indoor recess games, etc… I really liked that they were on wheels and would make it really easy to move.
I really wanted to check out these stools. The red on the bottom left is very popular. They are cheap in price and come in different colors. The stool did seem pretty good, but not as sturdy as a regular chair maybe. But if a student breaks one, it wouldn't be as expensive to replace either.
Tell me, have you been to IKEA? What fun finds did you get for your classroom??