Onset and Rime are important building blocks that can help students decode and spell new words. We want students to be able to recognize chunks in words and use these chunks as the read and write. Using the decoding skill of onset and rime is much more efficient than trying to sound out each letter. It is more accurate too!
We know the importance of reading rhyming books to our students. Especially our younger students. They develop rhythm and the ability to rhyme which are important to their phonological awareness skills. As students get older, these books can also be used. Break apart the rhyming words into onsets and rhymes. Look at the spelling patterns.
Jack Hartman has some videos that are engaging about onsets and rimes. You can find three of them here, here and here.
As students are identifying the rhyming words in books, write the words on index cards. I like to write the rime or chunk in red so the pattern is more apparent to students. After you have identified the rhymes, have students help you sort them. As students for each group: do these rhyming words have the same spelling pattern or do they have a different pattern? Put the ones that do not have the same spelling pattern in a different part of your chart. You can then have students help you read new words that go with one of the patterns that did have the same spelling pattern. Then show students how to use those patterns to write and spell new words.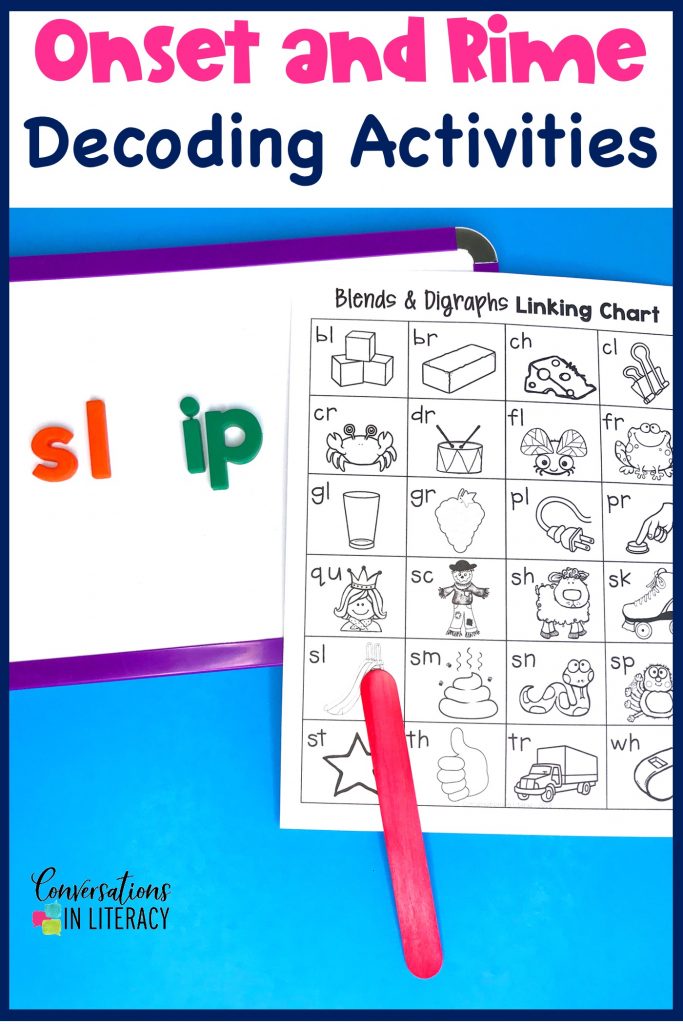 Of course, just doing this one activity may not be enough. Your students may need more and we always want to demonstrate how to apply this during reading books and writing. You can remind students to use this strategy during guided or independent reading. Remind them to break apart a word they are trying to write and use the onset and rime to help them hear the sounds as they write each part.
Another onset and rime activity is using onset and rime word triangles.
These are easy to use as a quick warm up at the guided reading table, use them in literacy centers, and during reading intervention times.
These onset and rime cards are separated by phonics skills (CVC, Long Vowel Silent e, beginning blends & digraphs, ending blends & digraphs, r controlled vowels, and vowel teams) so you can differentiate according to your small group and student need. The word triangles improve word fluency, decoding and spelling.
I don't want my students to practice phonics skills always in isolation. They need to be applying these skills. These comprehension cards help students to do just that- apply their onset and rime to reading. But we know time is short in the classroom, so the cards have quick, short text.
I keep my word triangle and comprehension card sets in these photo boxes. The boxes needed labels to make it easier to keep everything in the correct place so we have included the big box label, all the labels for the edge of the boxes and the cards for the fronts of the extra boxes too for FREE!
The FREE labeling kit will help make everything so much easier and keep it all organized. You can find the Word Triangles and Comprehension Cards Bundle here. The label kit is included. If you are needing an individual set, the links are in the bundle and the FREE labeling kit itself can be found here.