What child can resist a colorful pinwheel? Such spinning, whirling fun!
I have some students that are struggling to blend the sounds of cvc words together and needed another way to practice.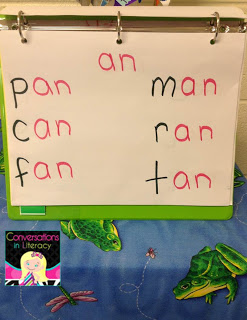 When we study a chunk, I make a chunk chart on the easel. I write the word and then students write the word. Then I transfer these chunks into a 3-ring notebook so we can continue to cycle through the different chunks for review.
So now, here we are needing a bit more practice and a fun way to do it. What better way than pinwheels! I glued on chunks in the middle and beginning sounds on the outside. Students then get to blow or spin the pinwheel to get the beginning sound. They then write the beginning sound on our board and read me the new word. I like to write the chunks in red so they stand out a bit more to them.
Students love them and are getting in some much needed practice in blending those sounds together. Plus, putting the pinwheels in a vase makes a pretty display and makes them much easier to store. I am all for that!