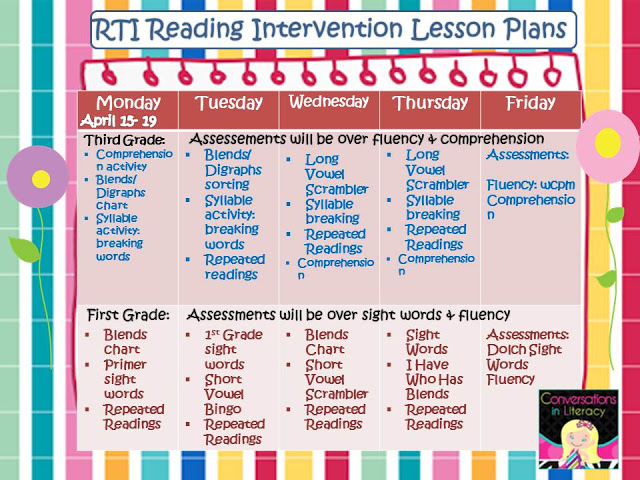 The weeks are moving right along quickly! I see the students making great gains, but at the same time I am feeling that I have so much that I want to accomplish with them before the end of the school year.


RTI is clipping right along too. My third grader is in tier III and is over half way to the end of his 12 week period. My first grade group is well over half way through their intervention period of 10 weeks. They are mastering skills and moving on to new ones. They get so excited when they move on to something new!


I pull from a lot of resources for my RTI groups and try to make the activities as fun, but meaningful as I can.





Click on the pictures if you want to download the plans. The resources are hyperlinked for you to find them easier.


I will a lot of times use all of the activities over the course of a week. Or sometimes I pull activities from different resources and use different ones on different days. The students like anything that that seems like a game. We rarely, rarely do anything that even resembles a worksheet. After practicing the sounds or patterns, then it is very important to take that next step to transfer and apply those skills to actual reading.


Students may be low in fluency, but we don't just practice fluent reading to raise that skill. There are underlying reasons for that lack of fluency. They may need letter sounds, sight words, learning to break multi-syllablic words, etc… Analyzing how students did on their universal screening will tell you what they need to work on to improve their overall reading.


I am linking up with Mrs. Wills again for her Peek At My Week visual lesson plans. I love doing this. Thank you, Mrs. Wills!



Get your visual lesson plans together and go get linked up! It's a great way to connect with other teachers and see what is happening in other classrooms!