It's The Magical Product Swap time! I have partnered up with the amazing Lisa from Learning is Something to Treasure. Lisa has a fabulous blog that you will want to check out after you read my post today. Plus, Lisa is showcasing something from me so I would love for you to check it out! 🙂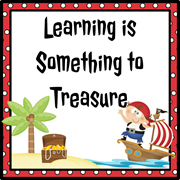 Lisa has gotten together a great group of Pirate books! This is a great way to start of your Pirate Theme and what better time than after all the testing is complete. Your students can have lots of fun, but still be learning!
Lisa has created the cutest pirate unit! And she has PACKED this unit with lots of math and literacy fun! One of the math activities is number order. Lisa has included such cute & colorful graphics that make the activities even that much more fun!
After practicing the math skills in center type activities, they can apply their skills to a pencil paper activity. Lisa has also included addition and subtraction activities to her pack.



There are also all kinds of fun literacy activities in her Pirate Palooza unit! Which of course I just love! One is this short i and long i word sort. If you have been reading my blog for very long, you know how much I like word sorts!
There is also the pirate arrrr sound sort: ar, art, arm. I don't know about you, but the ar sound trips up some of my students. They will love this treasure chest and gold coin sort to help them practice!
You can click this picture of Lisa's Pirate Palooza to be taken to her store so you can check it all out! What a fun and learning filled unit! Thank you Lisa for allowing me to review it!
Now that you have checked out Lisa's Pirate Palooza, please head on over to her blog and see what she has going about one of my activities! She would love for you to drop by and say hello!