We have introduced Read to Self and set expectations.  Reading Tool Kits are popular and students use them as they read to jot thoughts about books. Our students are working on building reading stamina and are really enjoying their books!  It takes a lot of practice, but students love Read to Self.  
I used to use the big size gallon baggies for our book bags.  It is a pretty good option, but the bags can look pretty rough quickly.  Some students just seem to tear them up without any effort at all.  Lol.  This year we are using drawstring baggies.  My students think these bags are the BEST!  The one in my picture is from Dollar Tree.  I am using bags like these from Amazon- see them by clicking here.   
But we don't just keep books in our Read to Self bags.  Reading Tool Kits are great to keep in there too.  The polka dot one in the picture above is from Dollar Tree.  I have used pencil pouches too and like those really well.  You can see some here. 
You don't have to just keep books in the Read to Self baggies.  Filling your tool kit with materials that will support the students as they read will keep them engaged and help them know what to do when they are confused or struggling.
Of course, you want students to have books.  Lots of books.  Different genres too. But have you considered allowing students to have charts to read?  They can warm up their brains at the beginning of Read to Self by reading their charts- ABC charts, CVC, Inflections, etc…  Some students really enjoy and feel comfortable starting with chart reading.  Or they may finish a book and choose to read a chart before diving into the next book.
Inside the Tool Kits are all kinds of goodies that keep students engaged in reading and help support them in their comprehension and reading.  Bookmarks, Post It notes, pens, highlighters for copies of articles, sight word lists, etc… Retelling bookmarks, Does It Look Right, and Reading Strategies bookmarks are all FREE!  Click HERE to find them!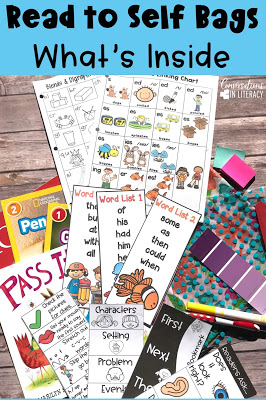 All these books and materials fit nicely into these drawstring bags!  
Read to Self builds lifelong readers and is an important part of every day! 
You can find the different bookmarks for your Reading Tool Kit by signing up for our newsletter.  Click  here to sign up!