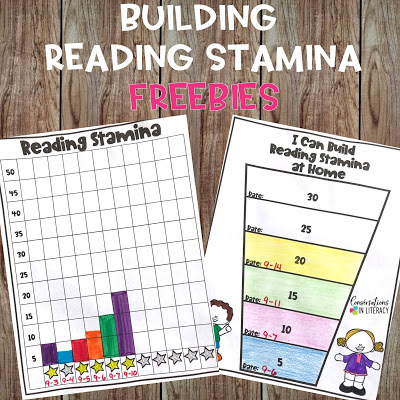 Before ever beginning guided reading groups, you need to do the work of establishing routines and building reading stamina.  Doing these things first will help your guided reading small group activities run so much more smoothly!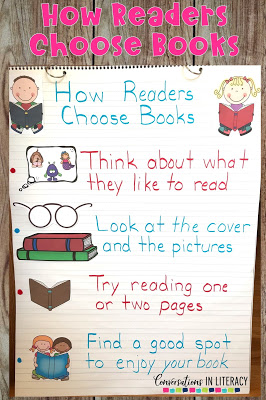 Before diving into guided reading groups, I take time in my classroom to teach students how readers choose books.  Some students really do not know how to appropriately choose a book that fits them.  I also have this post where we compare choosing just right books to choosing just right shoes- you can read that by clicking HERE.  The students and I created this anchor chart to guide them through the process.  A lot of my students just use the Grab & Go method (grab any book and go) before we do lessons on how to choose a just right book.  This lesson comes after talking about making reading goals.  You can find that post HERE.  
Some of the the links below may be referral links, which means,  I will earn a commission if you make a purchase, at no additional cost to you. 
After we learn and practice- very important to practice- choosing books, we then learn the expectations of reading to self.  This anchor chart is great for students to visualize this.  
I use the ideas in this book about breaking stamina.  Once everyone gets settled into place, I begin my timer.  If students are not doing their job, I stop the timer and call everyone to a meeting on the carpet to discuss what happened and how we can do better.  If there is time, I send them back out to try again and reset the timer.  I also like to do a check in on the carpet on how we are doing according to our anchor chart.  I ask them for a thumbs up or thumbs down for how they did as an individual.  For example, did you have books you could read?  Did you stay in your spot the entire time?  Were you reading the whole time?
I use this book, Conferring with Readers for ideas on conferencing.  Jen Serravallo teaches to stand back the first few days and kid watch during this time.  Make note of  who gets settled in right away and who struggles to start their books.  Maybe you have some students having difficulty choosing just right books (I always have some who struggle with this, don't you?).  Take the time to observe what is going on with your students.  These observations can them become mini lessons to help students or you can use this information when you being individual conferences.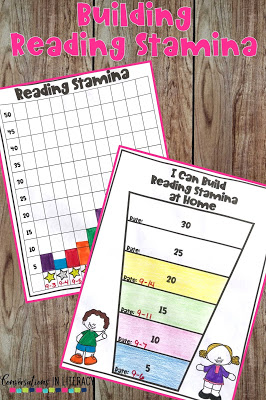 After we have learned about how to choose books, where to sit and the expectations of Read to Self, we begin building our reading stamina.  I have found students enjoy this a lot!  They like to beat their times!
When building reading stamina, I like to start low so students can be successful.  Starting with success builds confidence.  But they will break stamina and not make it too.  Call them to your rug or meeting place in your room and talk about why it happened.  Then try again another day.  Students love the visualness of graphs so we color those in each time.  I like to have a record of whether we achieved our goal or not so I have a star for that!  You can find this chart for FREE in our Free Resource Library.  Sign up for our newsletter HERE to find it!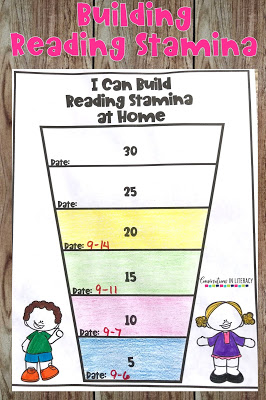 If one of your goals is to get students reading at home (and who doesn't have that goal?), you can also find this reading stamina chart in our Free Resource Library.  Great way to encourage reading at home!  
When you sign up for our newsletter, you receive teacher tips and gain access to our Free Resource Library!  Sign up here!