Last Sunday I introduced to you how my school has implemented RtI. I explained Tier 1 and you can read it here if you missed that part. This week I am attempting to describe to you how Tiers 2 and 3 are conducted at my school.
We use Developmental Reading Assessment (DRA) for our universal screening. I also use phonemic awareness assessments with kindergarten for universal screenings. I have set up cut off points for each grade level for where students should score. If students do not score within these ranges, they are automatically placed into RtI. If they have never gone through the system, the first step is to be placed into tier 2.
Once students are placed into either tier 2 or tier 3, then I make decisions based on how they performed on the DRA or phonemic awareness assessments as to what interventions they need. I also group students according to interventions needed and/or reading level. For tier 2, we keep our groups to 6 students per teacher or less. But I must say that there have been several times that this has been an impossibility for us due to staffing. I just don't have enough staff members available always to keep the numbers as low as I would like for tier 2. For those students that have worked their way up to tier 3 due to lack of adequate progress in tier 2, we have groups of 2 or less per teacher.


Our school has a designated time each morning for RtI. We split the times for K-2 and 3-5. That does help with staffing. I have my tiers in increasing duration and intensity. For tier 2, we go for 10 weeks in small groups working on 2 interventions at a time. In tier 3, we intervene one on one or two for 12 weeks with 2 interventions but with more rigorous methods.


I do not use a program in RtI. I am not a program person. I know lots of schools use Aimsweb and other programs. Our principal bought us Acuity this past year, but I do not use it for tiers 2 or 3. I prefer to delve more into how the students performed on the DRA or phonemic awareness assessments to decide on what intervention best meets their needs. I will admit though at times, I think those programs might make my job of overseeing all of this and getting everything prepared for all of my teachers to use would make my life much easier. But I really think doing what we are doing is working so well and the proof is in the growth evidenced in our scores.


Once students are placed into groups, teachers who are doing the interventions give students 3 of the same assessments. This is to obtain their baseline scores for our graphs. Then those scores are averaged, graphed, and connected on the graph to their goal (might be a certain score or percentage).
Then each week students are instructed in interventions that are best for them. For instance, it might be rhyming and beginning sounds for kindergarten. Then every Friday, students are given an assessment to check on how they are progressing. If they are progressing the way we would like, the points plotted on the graph each week should be increasing. If not, the teacher may need to adjust their teaching methods or a different intervention may be needed (they might not be ready yet for that intervention).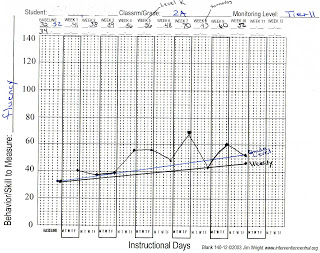 The teachers teach interventions, weekly progress monitor (test), and graph the progress on the graph weekly. Then at the end of 10 weeks or 12 weeks, depending on which tier they are in, a decision meeting will be held to decide if the students made adequate progress or not and whether to change them in tiers or interventions. Next Sunday, I will be explaining how we run our decision meetings and how we come to our decisions regarding the students and the tiers they are in. How do our tiers 2 and 3 compare to yours? I would love to hear about how your tiers are run. This is definitely a work in progress for us and I am always looking to improve our process for the best interests of our students' learning!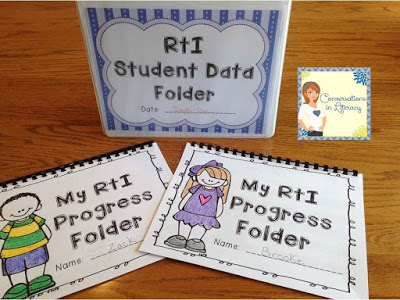 We like to keep lots of RTI data on our students. These binders containing graphs for both teachers and students to track progress may help you with your RTI. Click here or on the pictures to check them out! I have binders for each grade, K through 3 with 4th grade coming by the end of July!