Do you do the activity Making Words? I encourage you to make this activity a part of your word time if you do not already. It is hugely beneficial to your students in phonemic awareness, phonics, root words, endings, etc… I can tell a big difference in the students who come to me that have had lessons in Making Words and those who have not. There are several different books for this, but I like Patricia Cunningham's Making Words the best. They are available for kindergarten on up to grade 5. Maybe even higher than that, but I only service up to fifth grade so I am unsure just how high they go.
Basically, they take a word like cupcakes (from the cover of the book above) and you give students clues to make smaller words. They start out easy: make a two letter word- up. Students build the word with letter tiles or magnetic letters. Next, add one letter to up to make the word cup. Change one letter in cup to make it cub. Add a letter to cub to change the sound of the vowel and make it cube, etc… You can make your own lessons, but I have found that these books are great and I just pull a lesson to go with the chunk that we are working on that week.
After students have made all of the words, it is time to sort words into groups according to their chunks.
Next is a VERY important step and should not be skipped! It is the transfer step to see if students can transfer the skill of using chunks of words they know to read and spell words they may not know. These are written in a different color in this picture so you can see where the transfer words are.
This is how I keep my letters organized so the letters do not become a chaotic mess. Lakeshore sells magnetic letters that come a nice sectioned box. I have two of these.
If you don't have these magnetic letter boxes, you can get plastic fishing tackle boxes at Walmart and set up the dividers inside to section off the spaces. Then copy off your alphabet, laminate, and cut them out. I have one for capital letters and one for lower case letters.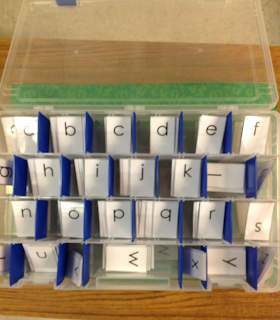 I have also just typed rows of the letters needed for the lesson in large type and handed those strips out to the students to cut the letters apart so they can use them to manipulate during the lesson and then just toss in the trash when finished. So whatever budget you have, this is an activity everyone can do and should do! It strengthens their knowledge about how letters and sounds work together, how to break words for decoding, using words you know to spell or read words you don't know, etc…. And as a plus, the students really do enjoy this activity and manipulating the letters and sounds. 🙂
Join in the organization fun and link up with Ladbug's Teacher Files!!
We would love to hear how you keep things organized!