March Must Read Books!! Books are so much fun to share because who doesn't love a good book. And March is a fun month!
One thing is for sure, kids love the There Was An Old Lady Who Swallowed…. books. They love the silliness of the things she manages to get in her stomach and they enjoy that the items are themed. Kids love this one for their list of March Must Read Books too!
Catching a leprechaun is so mysterious to kids and the thought of actually achieving this is just beyond belief! This leprechaun book will spark lots of ideas for building those leprechaun traps (mentioned in our Free March Literacy Challenge that can be found here).
Do your students know the saying "In like a lion and out like a lamb"? You can teach them what it means using this cute book about winter and spring.
Our last two recommendations are The Tiny Seed and Worm Weather. The Tiny Seed is an old favorite for many. Worm Weather has short, rhyming text perfect for phonemic awareness activities that can then lead up to phonics activities for spelling patterns. You will need to direct the students to pay attention to the worms in the illustrations. What they are doing and how the weather is affecting them as it is not explicitly told in the story.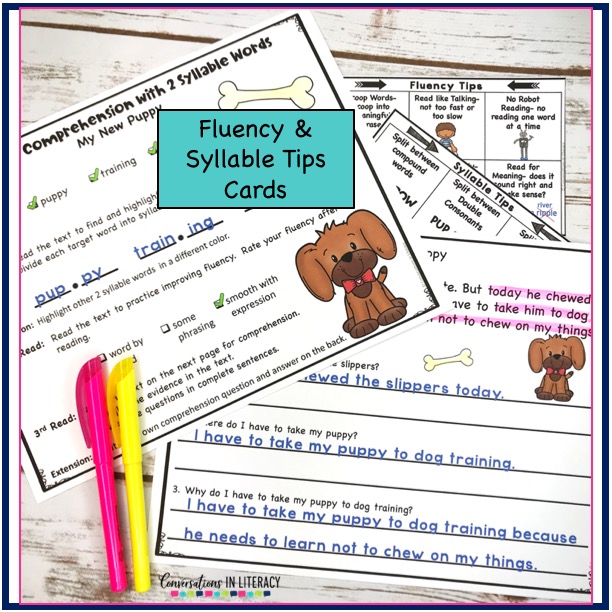 Working on fluency is an ongoing thing. And as students progress in reading skills, learning how to handle multisyllabic words becomes even more important. I love these multisyllabic words used in short text for doing just that!
In these two page spreads, students work on a variety of skills. There are three purposes for each reading of the text. First, they target the multisyllabic words in the story and then divide them into syllables.
Next, students read the text again and rate their fluency.
After that, students read the text to answer comprehension questions and provide evidence from the text for their answers. We have included two extension activities also! Lots of skills for producing fluency and comprehension!
~SHOP THIS POST~