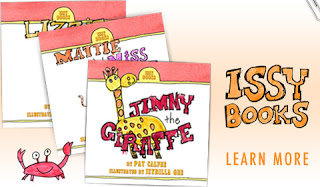 Who are Snappy, Bam Bam and Issy you ask? My class just found that out this week! Issy is this adorable little 5 year old girl who illustrated these books that her grandma wrote. And we got the pleasure of reviewing reading and enjoying them!!
Set out a basket of new books for my first graders and they are ALL OVER them! I read to them Meet Issy so they would know about the author and illustrator of the books and they were amazed that this little girl did all the art work. They loved that!
How inspiring to my students to know that a young girl could accomplish so much! We decided to come up with our own list of ideas of things that we know about that would make good subjects to write about.
The books are adorable with the text supported by cute illustrations. Sight words are used in the stories for young readers. One book we were sent went along with math by using shapes. Another, Lizzie the Lizard, was about camouflage. Jimmy the Giraffe was about feeling different but discovering that you are special because everyone is different. Cute animal characters- like Bam Bam, Issy's dog. We made a list of word families that were found in a couple of the books.
This idea of using word families came from Melissa over at Joyful Learning in KC. If you have not found her blog yet, you need to head over there and check out all her great ideas. I always learn great things there!

If you are interested in these emergent reader books, click here or on the first picture to be taken to their website. My students really enjoyed reading them! Let me know what you think!